Hello all,
I'm using a bunch of Blackview BV4900's for SMART data collection in the field in Botswana, and recently have come across an issue with some new handsets.
SMART package uploads perfectly to the phone and data collection doesn't indicate any problems. However, when trying to access the JSON files, it leads to a series of errors, culminating in a "Catastrophic Failure" which then wipes all the data.
I also tried plugging the phone directly into the laptop and importing the files from the device - it says there are no data files to be imported.
When you go directly to the device itself, and find the JSON files in the File folder, they are all there, but it is impossible to select or share them (for example, to attach them to an email).
Going into the phone's files folder on the desktop also shows that the JSON files are there, but they cannot be selected, copied, cut or pasted anyway.
This action then leads to an error message that says "Unspecified Error" which is followed by a "Catastrophic Failure". Following this the JSON files are gone, and I can't find a way to retrieve them.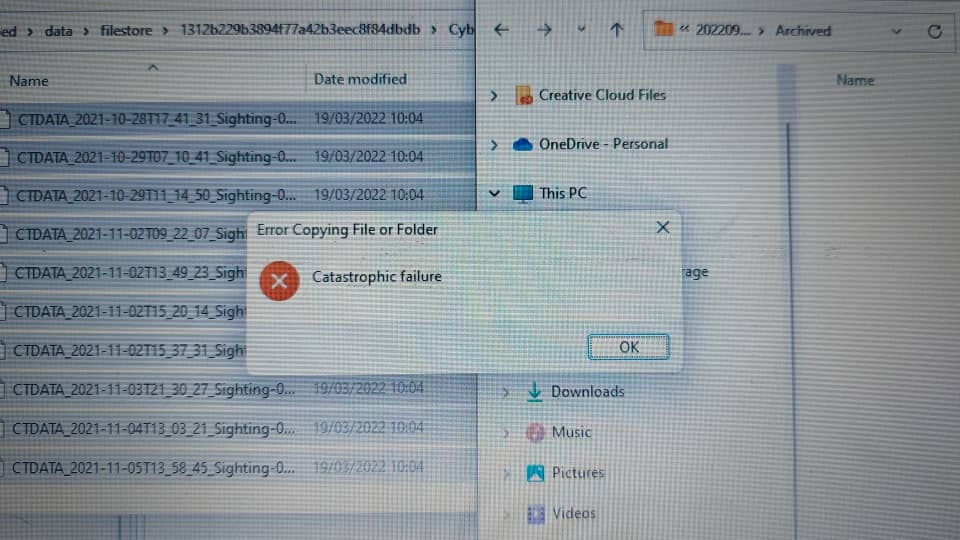 Trying to import from Archive on the desktop also doesn't work.
I have tried various iterations of the above on a second mobile device and had the same outcome - no files imported, catastrophic failure declared and data gone!
Can anyone help? Could it be a setting on the mobile device which I haven't configured properly? Is there anyway to recover files after a catastrophic error (after which they no longer show in the files folder and appear to have been deleted). I have 12 devices deployed and others seem to be working well - JSON files can be attached to emails and sent without issues. I had this issue with the first phone, and then the second did the same, at which point I stopped plugging them in incase it was going to wipe data from all the devices!
Many thanks in advance!
Jess